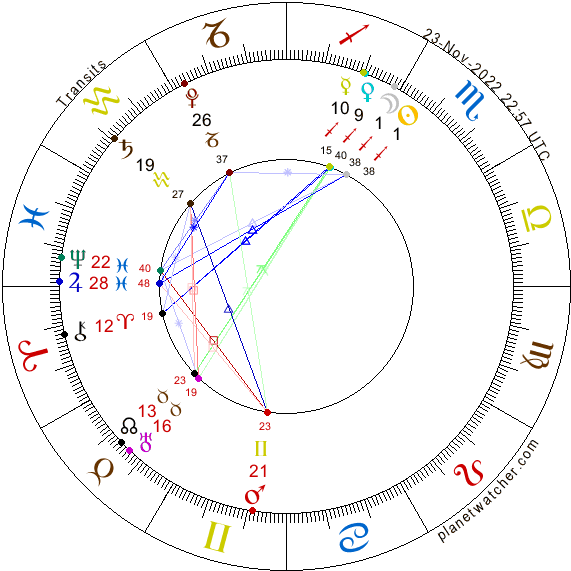 New Moon in Sagittarius
November 23, 2022
22:57
New Moon in Sagittarius
The fiery New Moon in Sagittarius is highly dynamic. It brings fresh energy, enthusiasm, and new ideas. Think of it as a bag of fleas – impossible to contain.
Mercury conjunct Venus
Mercury and Venus are also in Sagittarius, but not conjunct the New Moon. This makes for scattered energy. There is nowhere to go for all this fire, despite the zest. We might find ourselves full of fire and champing at the bit, but circumstances may not yet be ready for action.
But, the conjunction between Mercury and Venus makes for creative cooperation. The Sagittarian hubbub suggests a sparkling idea-generating process, which is always great for artists, but also represents the first step in any creative problem-solving process.
Mars trine Saturn
Mars is retrograde and casting a trine to Saturn. This pattern has been going on for a while. It indicates a concerted effort to concentrate all available resources on strategic planning. Maintaining flexibility while staying focused on a goal is the name of the game.
Mercury trine Chiron
The trine between Mercury and Chiron suggests more fluid dynamics regarding health matters. Mental health moves into focus.
Jupiter/Neptune sextile Pluto
The sextile between Pluto in Capricorn and the Jupiter/Neptune conjunction in Pisces is not very tight. It probably has little bearing on the overall situation. But the spiritual and visionary energy of Jupiter and Neptune may find an outlet for expression.
Saturn semi-sextile Neptune
The sextile between Saturn and Neptune might stimulate the impulse for this spiritual energy. Semi-sextiles show a budding potential, which needs a lot of TLC and unwavering focused attention to develop and grow. If you are thinking of starting a spiritual practice, this would be an excellent time to establish the habit.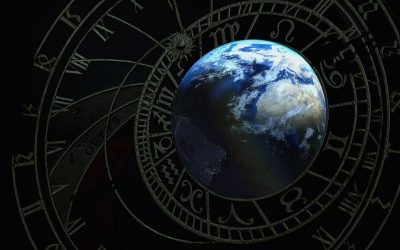 The astrological forecast for October 2022 provides an overview of what is happening in the stars this month.
read more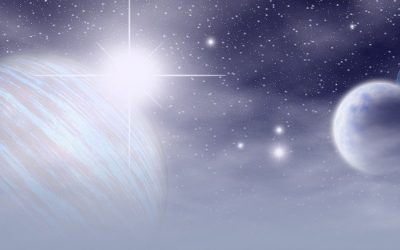 Stay in touch with the signs of the times and find out what is happening with the stars. Get regular Astro-Insights delivered right to your inbox.
read more
Inner and Outer Reality Where is the boundary between inner and outer reality? We see the world not as it is, but as the brain interprets it for us, based on our sensory experiences. The brain creates our image of the world according to its exposure to a variety of signals or stimuli. Due to this fact it is, pretty much impossible to experience anything completely fresh and unbiased. The mind automatically activates neural pathways and connects the essence of prior experiences to the present....
read more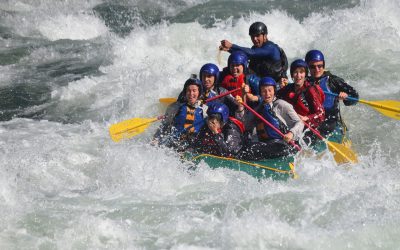 You know the feeling: you need to make a decision about an important issue but it's an ambiguous situation and you are barraged by contradicting inner voices all trying to shout each other down. Who are these characters? And which one should you listen to, if any? How are you supposed to make up your mind? Friedeman Schulz von Thun has drawn attention to the conundrum and popularised the idea of personalizing aspects of the psyche by abstracting them as separate characters that all 'live...
read more