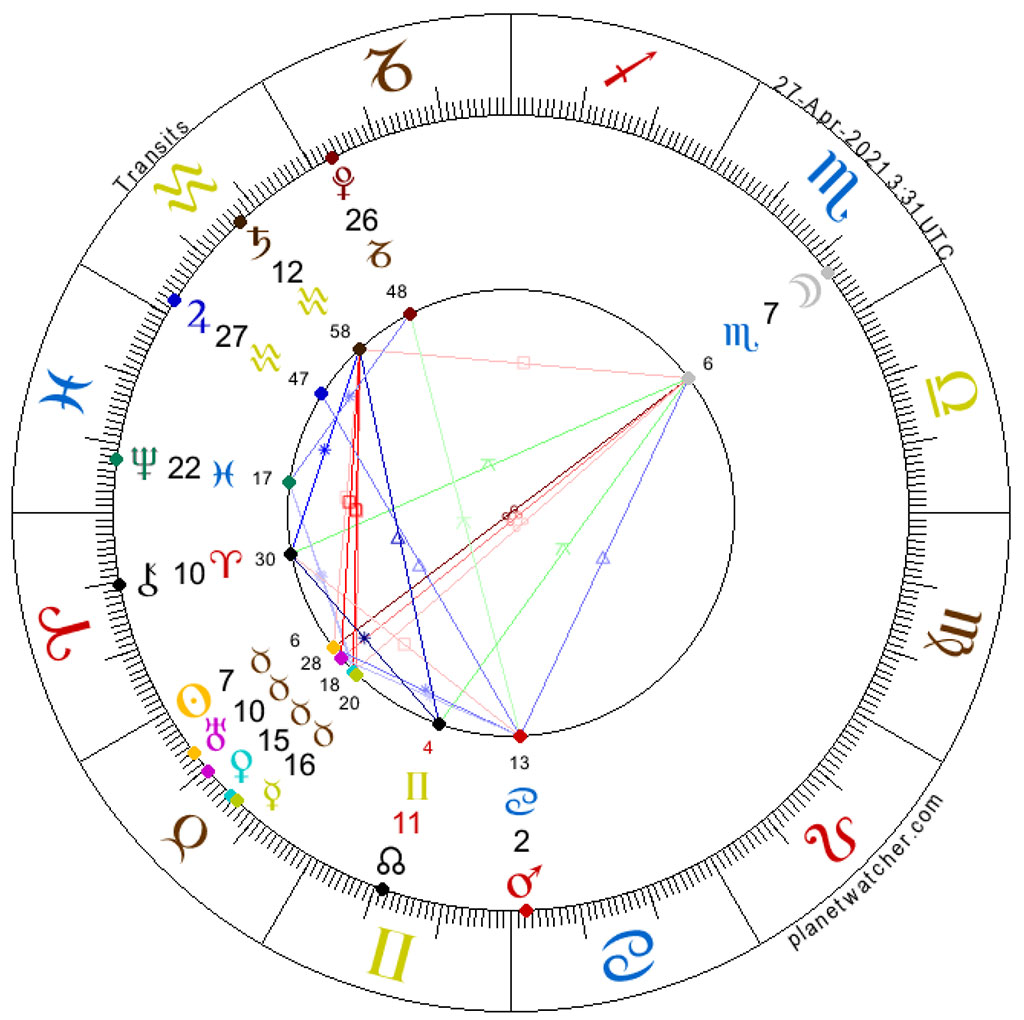 Supermoon
Sun conjunct Uranus, opposite Moon square Saturn
The Full Moon in Scorpio has an intensity that is not easily matched by any other sign. This one will be no exception. On the contrary. The Sun Full Moon highlights the Sun/ Uranus conjunction – which promises a surprise.
The Full Moon in Scorpio marks spring in full swing. It is time for renewal, the awakening of the undying life-force, or in psychological terms, it is time for regeneration. The Sun is gaining strength and power in the sign of the bull; it is full of vigour. Astrologically, this is a magic moment full of seed potential.
Venus conjunct Mercury
Mercury and Venus, closely conjunct, are also in Taurus. Venus is at home in Taurus and the conjunction with Mercury has an artistic quality. Given that it is also conjunct Uranus and thus drawn into the Full Moon pattern, this could be a bit of a Eureka moment, especially for artists. The sudden inspiration may well take root in the fertile ground that Taurus provides.
Uranus, Venus and Mercury (and Sun/Moon, but wide) Square Saturn
Saturn square Uranus is a time of testing boundaries and limitations. The square to Venus and Mercury suggests a time of intense creative work, thorough and reaching for top grades.
The Uranus / Saturn square is the dominant feature of the year, although there are times when it peaks and times when it subsides. Right now, the two are separating slightly, so a bit less intense. However, on this Full Moon, the square is drawing in other planets, so we are still likely to experience its effects.
Uranus Semi-sextile Chiron
The semi-sextile between Chiron and Uranus has been with us throughout the Pandemic. It is now approaching its final exact phase (May 3). We are not over the hill yet, but with a bit of luck, just about to turn the corner.
Jupiter semi-sextile Pluto
This is a somewhat ambivalent aspect. The dark side of this aspect has a streak of fanaticism and power-mongering about it. Given that Neptune also plays into this configuration (semi-sextile Jupiter, sextile Pluto) it can be the perfect setup for a sleaze. Expressed positively, however, Neptune could inspire true leadership, benevolent and humanitarian, just the kind that our planet needs.
Pluto retrograde
The beginning of Pluto's annual retrogradation coincides with this Full Moon. Pluto will stay retrograde throughout the summer before finally turning direct again on October 6, 2021.
All the outer planets spend a long period in retrograde motion each year, so there is nothing unusual about that. This particular transit will be most significant for those who have planets at 24°-26° in cardinal signs (Capricorn, Aries, Cancer, Libra)in their natal horoscopes.
In the general scheme of things, a retrograde period indicates a period of going over the same ground that has been covered recently, but digging a bit deeper, getting closer to the core, bringing up stuff that may have been hiding or ignored.
Retrograde phases are generally not times when issues are resolved. That comes in the third transit phase. For now, it is time to unearth stuff, to acknowledge things that have previously been raised but then ignored.
The fact that Pluto is turning retrograde on this Full Moon does not impact the current lunation as such, but it is significant in terms of ringing in a new phase. Since this Full Moon is all about new beginnings, it suggests that it is time to deal with the things that stop us from growing and moving forward.