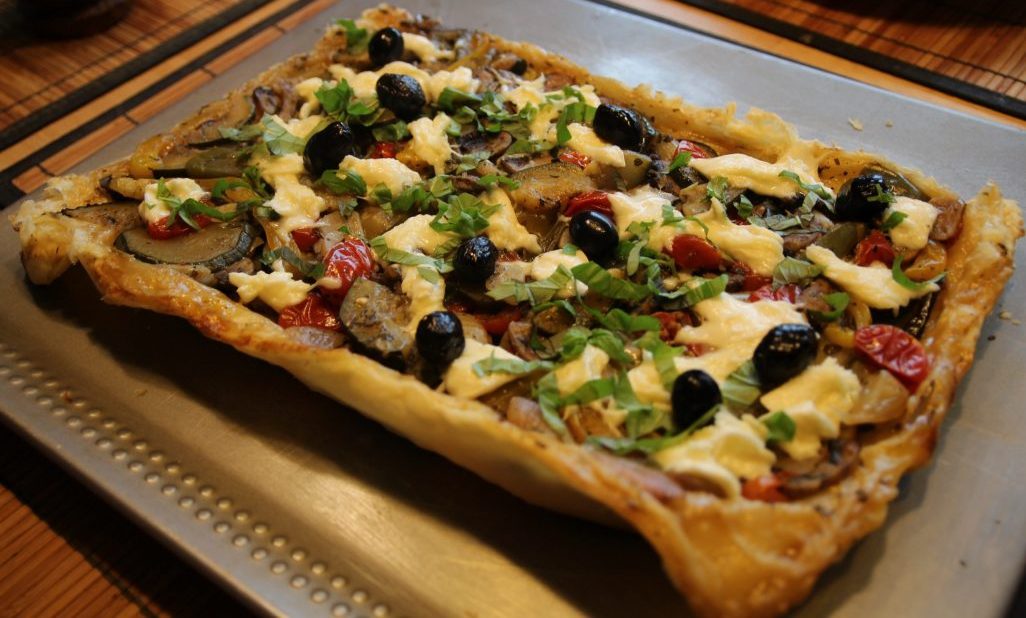 Gemini usually isn't a fussy eater. They are naturally inquisitive and most of the time willing to try anything, at least once. However, when it comes to cooking, they are a bit impatient. They can't be bothered with long complicated recipes and don't relish spending hours in the kitchen – much less having to clear up the mess afterward. Consequently, they actually like to go out to eat or just grab a quick bite on the go, or even just have grazing-bouts as they rummage through the fridge. They also don't shun fast food, either. Whether, take-away, ordering in for a TV dinner night, or even converting the car for a drive-in dining experience, is all fine by them.
If they do decide to cook at home they prefer something that is quick and easy to make – minimal fuss to maximum effect is their ideal dinner strategy.
Like this easy as pie puff pastry pizza, for example
Pizza is perfect as far as Gemini is concerned. It is pretty straight forward to make and incredibly versatile as it can be topped with just about anything. And while making the dough is time-consuming, even DIY pizza kits or frozen pizzas allow some room for play and creativity.
But there is actually a much better, tastier, and fun alternative: puff pastry pizza.
It takes a little bit more work than a pizza kit, but not much more, as you can use ready-made frozen puff pastry dough. Puff-pastry pizza – what could be more delightful, right? Well, there is only one hitch. If you pile your toppings on a slice of a puff pastry, chances are it will get soggy and never rise.
The clever alternative is this upside-down puff pastry pizza – a genius idea that I stole from Jamie Oliver.
Method:
1. Slow oven-roast a bunch of your favorite veggies that you would like to use as your topping – that could be anything, but consider the cooking time. Things that don't take long to cook, such as fish, are best added a bit later
Onion, bell pepper, zucchini, mushrooms, and cherry tomatoes all work well.
2. Toss in a bit of olive oil and some herbs and roast in an oven tray for about 30 minutes at about 180°C or 350°F.
3. Remove the tray from the oven and push the veggies towards the middle so you get about an inch of space all the way around them.
4. Now take the sheet of puff pastry and cover the veggies with it, tucking them in, all around the edges. Return to the oven for another 20 minutes or so, until the pastry has puffed up and is golden brown.
5. Now it is time for the magic trick! Take the tray out of the oven and cut around the edges to make sure the pastry isn't sticking to the sides of the dish. Then take a board that is big enough to cover the tray, and, 1-2-3 flip it over in one fell swoop!
Voila! You have a beautiful puff pastry pizza that is not soggy but light and puffy with lots of colour and aroma, and a beautiful crusty edge.
Now its time for the finishing touches:
Tear up some mozzarella and bury the blobs in among the veggies, scatter with some fresh basil leaves and drizzle a bit of nice, thick balsamic vinegar on top – and that is all there is to it! Easy as pie, puff pastry pizza – it's the perfect Gemini dinner for two.