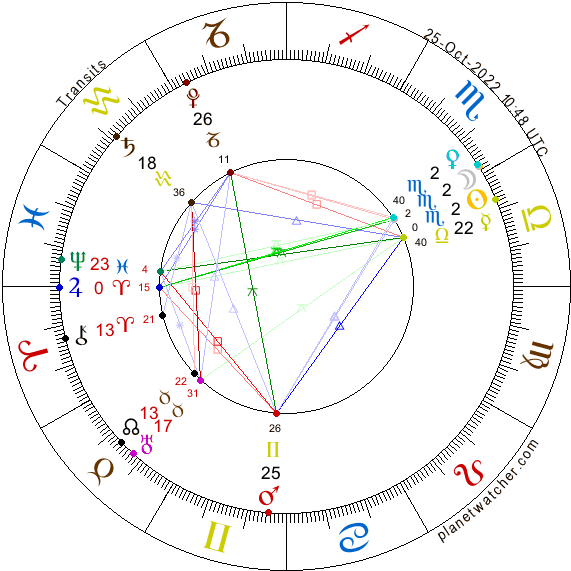 New Moon in Scorpio
October 25, 2022
Transformation
The New Moon in Scorpio marks the time of transition. In the Northern Hemisphere, the solar energies are noticeably waning, and the life force retreats below ground. Persephone joins her dark consort in Hades, the dark, still earth womb and tomb where she regenerates during her period of rest. The vital energies are concentrated in the roots. Above ground, the leaves have fallen to the ground, transforming into nourishment for next year's growing season. It is a time to clear out any clunky stuff that holds us back and pins us down.
New Moon conjunct Venus
This New Moon closely conjuncts Venus, which signifies strong emotional bonds. But Scorpio can be obsessive or manipulative. True love needs air to breathe. Trying to control it will only suffocate it. Pay attention to the undercurrents.
New Moon/Venus Quincunx Jupiter
The New Moon and Venus form a quincunx with Jupiter in Aries at 0 degrees. Jupiter's earlier bravado is diminishing as he is just about to slip back into Pisces. In its watery domain, Jupiter recharges its spiritual batteries.
Quincunxes and squares dominate the horoscope, indicating the obstacles that must be overcome. Contentious issues and entrenched positions block the way forward and can only be moved by goodwill. Resentments, blame, and strife can not build bridges.
Mercury trine Saturn
A redeeming feature of the horoscope is the trine between Mercury and Saturn. Despite the emotionally charged ground, there is an air of reason.
Mercury quincunx Neptune
A quincunx between Mercury and Neptune points to different perspectives. Neptune's nebulous energy makes it hard to see what is really going on. Denial, deflection, and deception have become popular strategies to gain a bargaining advantage. But will it fly this time?
Mercury trine Mars
There is a wide grand trine between Mars, Mercury and Saturn. But, Mars has a prominent role in the chart. Luckily, these dynamics are playing out in air signs. An element of rationality allows for cool-headed consideration without emotions getting in the way. But Mars, even in Gemini, is a passionate planet capable of fiery speeches and zealous appeals.
Saturn square Uranus
Saturn is still squaring Uranus, but they are now beginning to separate, which should ease tensions. We won't notice it yet, but it is a relief to know a let-up is on the way.
Mars quincunx Pluto
The quincunx between Mars and Pluto feels like a diplomatic stranglehold, or diplomatic ultimatum forcing the parties to come to some kind of truce, which is not quite the same as peace.
​