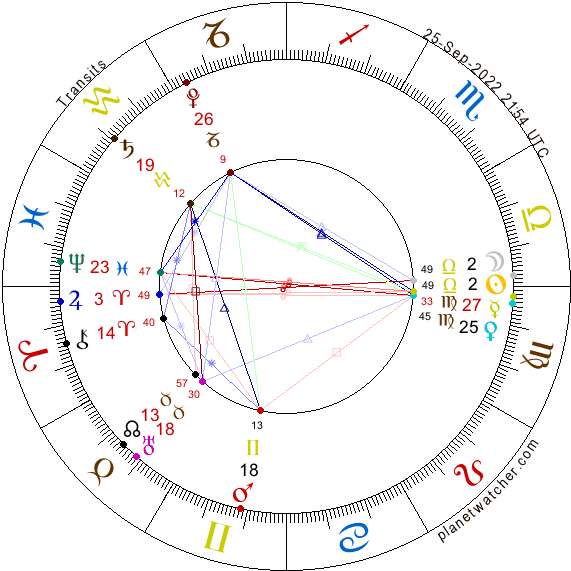 This New Moon in Libra is a time of reckoning, a time to take stock, to re-evaluate and revise strategies before setting course for the future.
New Moon in Libra
September 25, 2022
The New Moon in Libra comes on the heels of the Autumn Equinox. The Sun's power is waning, and we are preparing for the dark half of the year. It is a time of thanksgiving and gratitude. At this time, light and dark hang in the balance as complementary parts of a whole. They are not irreconcilable opposites.
New Moon in Libra Opposite Jupiter in Aries
The New Moon in Libra opposes retrograde Jupiter in Aries. It is an opportunity to review our goals and assess our progress. At the beginning of its transit through Aries, Jupiter, who at the time was conjunct Mars, probably bit off a lot more than was sensible. Reconsider the situation using your core values to guide your assessment. Sometimes, outward success does not equate with fulfilment.
New Moon in Libra Sesquiquadrate Uranus in Taurus and Saturn in Aquarius
Uranus has separated from the north node, but is still in a close square with Saturn. The New Moon highlights this ongoing tension, forming a sesquiquadrate with both planets. The New Moon takes place in Libra, the sign of the politician. It seeks compromise through diplomacy, but knows how to apply pressure to achieve its goals. When two factions are entrenched in hostilities, it is difficult to reach a workable solution. Something has to give. Such dynamics may play out in the political arena, since the planets concerned are 'social planets'. But it can also materialize in personal affairs if planets or angles are directly affected by transit. This is where social issues become personal.
Mars in Gemini trine Saturn, semi-sextile Uranus in Taurus
Mars meddles with both Saturn and Uranus and may potentially play a dynamic role. While other planets are entrenched, deliberating and hesitating, Mars nudges Uranus into action. But with Saturn also in the running, realism is not tossed out.
Mercury retro
Mercury has turned retrograde, which drags its heels when it comes to moving forward. But it may be necessary to go over details and loose ends before we can go ahead with a concrete action plan. Retrograde Mercury throws up obstacles, real or imagined, and creates delays.
Mercury conjunct Venus in Virgo
Venus rules Libra, the sign of the New Moon. Mercury rules precision-minded Virgo. Venus and Mercury in Virgo are conjunct with the New Moon in Libra (dissociate). They don't share the same energy; nevertheless, they weigh into the big issue of this New Moon. Talks may stall on 'technical' issues, and decisions may be delayed due to missing or inaccurate information.
Mercury/Venus in Virgo trine Pluto in Capricorn
Mercury and Venus trine Pluto, making them edgier. Passion, conviction, and fanaticism are common themes. Power plays may bring secret or suppressed factors to the surface, creating a political threat.
Venus in Virgo opposite Neptune in Pisces
Venus opposes Neptune. In Virgo, Venus is not easily deceived, but might call out Neptune's lies. But, there could be some fudging over gender politics and political correctness.
Jupiter in Aries semi-square Saturn in Aquarius, and semi-square Uranus in Taurus
Jupiter is at the midpoint of the square between Saturn and Uranus. All these planets are retrograde. This is a testing pattern probing the validity of a recent struggle. Was it all worth it? At what point does it make sense to count one's losses and surrender? This can be a very tough question, especially when a lot is at stake and losses are grave.