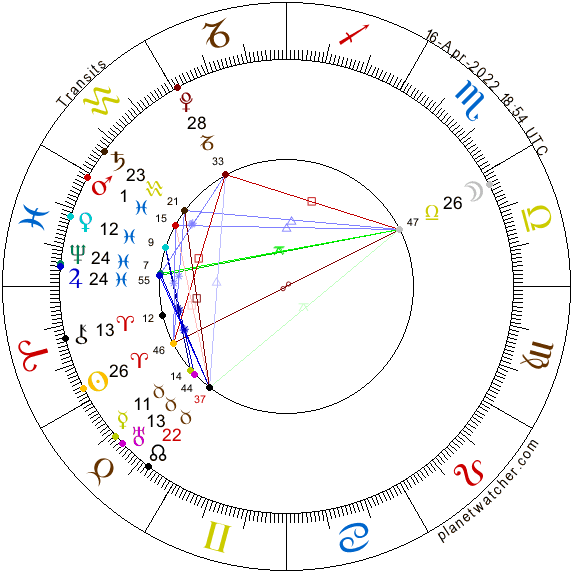 Full Moon in Libra
The Full Moon in Libra is trying to bring some balance into a heavily one-sided chart. But the Full Moon is squaring Pluto, and Saturn squares the nodes. There is a lot to unpack.
Full Moon in Libra square Pluto in Capricorn
The Sun in Aries is impulsive and pushy, while the Moon in Libra seeks peace and harmony. But there can be no peace without justice. Pluto squaring the Full Moon reminds us that there is a lot at stake. Pluto can be ruthless.
Libra Moon trine Saturn in Aquarius/Aries Sun sextile Saturn in Aquarius
The Sun and Moon form benign aspects with Saturn, which indicates acceptance of the challenges we must face. The Sun is strong in Aries, and Saturn is in his own sign. While the Sun in Aries is impulsive, Saturn applies a more comprehensive and strategic perspective.
Saturn squares the Nodes (Taurus/Scorpio)
Saturn is forming a square with the nodal axis, signifying hardship, compromise, and sacrifice in connection with the Sun/Moon issue. Whatever the rationale for war may be, it always comes with human suffering on all sides.
Jupiter conjunct Neptune in Pisces semi-sextile Sun
The Jupiter/Neptune conjunction is full of idealism. Both planets are heavily invested in ideology. The semi-sextile with Saturn shows what is behind the acceptance of suffering: we believe in Jupiter and Neptune's vision. In personal astrology, this configuration is great for artists and spiritual seekers. It floods the imagination with its cosmic rays and can be very inspiring. But, keep Saturn as your anchor, otherwise, you might get swept off your feet. Jupiter and Neptune can signify losing touch with reality. Don't take gambles you can't afford to lose. Navigating by the liquid light of Neptune and Jupiter in Pisces can be disorientating.
Sun semi-square Venus / Moon sesquiquadrate Venus
Venus in Pisces is romantic and idealistic. She has a very particular fantasy of how things should be in her ideal world. Her irritable aspects with the Sun and Moon signal that her pleasure may be disturbed by the bigger picture that cannot be ignored. There may be arguments over such topics, perhaps disagreements with friends, or some negative consequence that rains on her parade.
Venus sextile Uranus/Mercury
Venus semi-sextile Chiron
Mercury/Uranus semi-sextile Chiron
Chiron is the midpoint between Venus and Uranus
Chiron has been prominent throughout the pandemic. The semi-sextile with Uranus is still operative. But, relieved that the restrictions are over, people no longer seem to care, even though the pandemic is still raging.
Mercury conjunct Uranus
Mercury and Uranus bring unexpected, perhaps even shocking news. Provocation or vocal protests is another possible outcome. At any rate, these two are stubborn. The involvement with Venus in Pisces could also signal some kind of scandalous revelation.
​