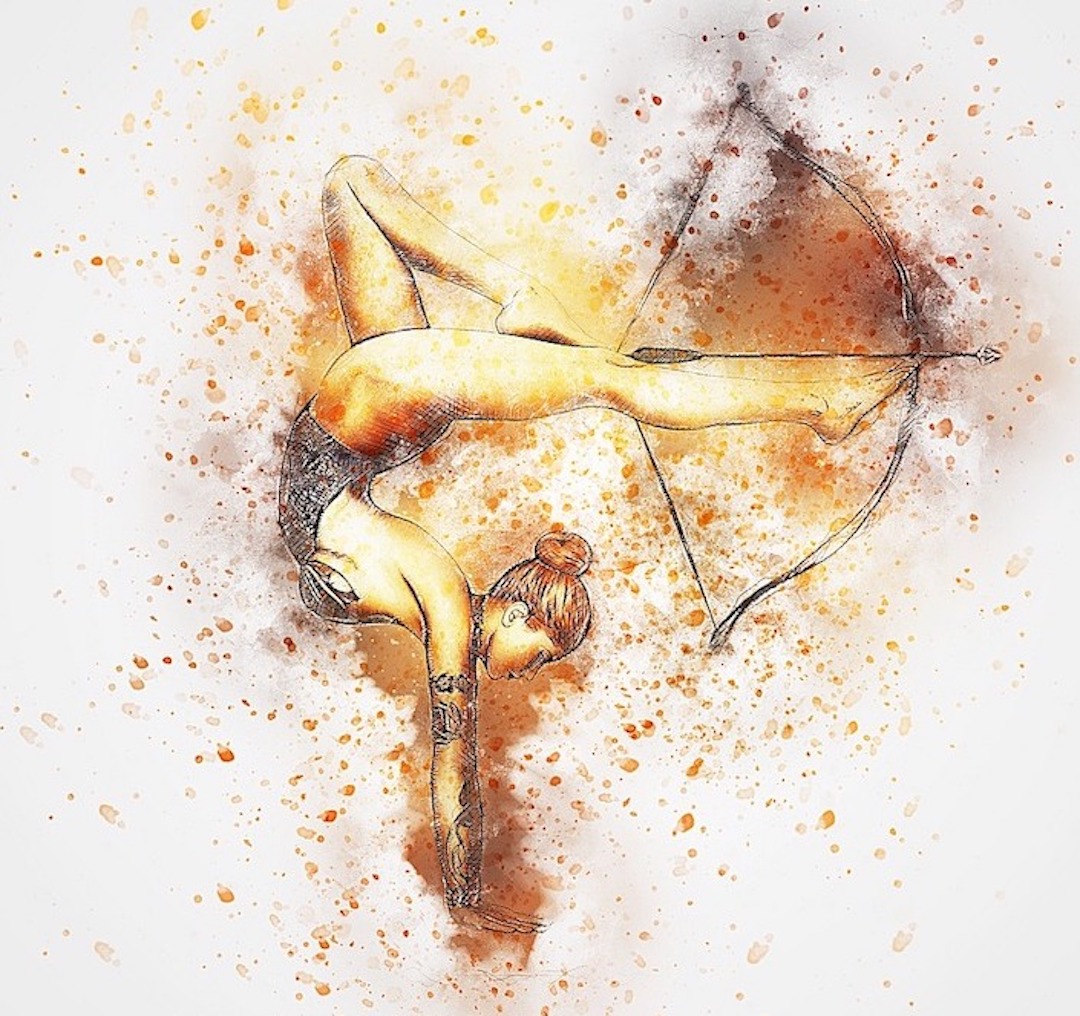 Venus is in Sagittarius
Most people will be happy to see Venus moving from seething Scorpio to gregarious Sagittarius, where Venus is feeling pretty footloose and fancy-free. And why not?
Isn't it time we drop all that weight we've been carrying, all the woes and worries, and get into a lighter mood?
Venus in Sagittarius is ready for a change: a change of scenery, a change of company, a change of focus. She catches the fire of a new idea or pastime and sparkles with enthusiasm – until the next best thing comes along.
Although full of passion, her interest is often short-lived. But who cares? There is always another project or idea to get excited about.
As a transit, Venus moves fast, so its effects are not very pronounced. But an upwind of creative energy and enthusiasm might suddenly inspire you to take up that project or creative endeavour you've been planning for ages. If you feel the kiss of the muse, fly with it!
Self-Presentation, Persona (Venus in Sagittarius, 1. House)
A Venus transit through the first house puts a fresh bounce in your step and revitalises your sense of enthusiasm, curiosity and adventure. Get out there to meet people, say 'hello world!' and have some fun.
Money, Values (Venus in Sagittarius, 2. House)
During this transit, it is difficult to keep tabs on where the money goes. Splurging is just too much of a temptation. But, hey, why not? Shouldn't everybody spoil themselves once in a while?
Friends and Kin, Mental Processing (Venus in Sagittarius, 3. House)
Few transits are more sociable and enjoyable than a visit from Venus in a Sagittarius third house. Make the most of it – reconnect and find some inspiration. Get on the phone and meet up with friends and siblings, or arrange a friends' weekend away.
Home and Family (Venus in Sagittarius, 4. House)
Under this transit, you might well fancy a change in the domestic sphere. Maybe you are dreaming about a new home or, more practically, find the inspiration and energy to give your present one a make-over.
Creativity, Children (Venus in Sagittarius, 5. House)
As transits go, it doesn't get much better. Venus passing through this house is an invitation to enjoy playtime with the whole family or some romantic time for two. If neither is available, indulge your own creative inner child.
Health, Work, Service (Venus in Sagittarius, 6. House)
This transit is quite antagonistic to the underlying pattern of the sixth house. The best way to use this time is to spread some joy among your co-workers. How about a team outing outside business hours?
They may be more amenable to your unconventional ideas at this time.
Partnership, Relationship (Venus in Sagittarius, 7. House)
Passionate, romantic and flighty. When Venus passes this way, it can get steamy. But don't get attached to wishful thinking about what might be. Enjoy the moment – every moment – as a gift.
Shared Assets, Inner Resources (Venus in Sagittarius, 8. House)
Venus in the eighth house points to a stroke of good fortune or the unexpected assistance from a helper. Trust your intuition to guide you to this hidden treasure. But don't get impatient, lest you might miss it.
Travel, Study (Venus in Sagittarius, 9. House)
Art, culture, travel, and adventure – Venus can get excited about almost anything during this transit. Sometimes people from other backgrounds, countries or religions spark inspiration – and suddenly, a whole new world opens up. Or at least, Venus may offer a little peek into another facet of this wondrous world.
Career, Status (Venus in Sagittarius, 10. House)
While Venus passes through the house of achievements, you may well ask yourself: are you happy in your current position? Perhaps it is time to get some recognition and ask for a raise? Venus in Sagittarius dares to dream, thus planting the seed, although she may not stay in this house long enough to do anything about it.
Community, In-Group (Venus in Sagittarius, 11. House)
In this part of the horoscope, Venus gives. In this case, it is all about bonding with your team members by facing challenges together. Genuine human warmth and generosity of spirit go a long way to bring people together.
Spirituality, Transcendence (Venus in Sagittarius, 12. House)
This transit is more introverted than in other houses of the horoscope, and excellent for self-exploration. Giving is receiving. In this house, Venus discovers her altruism and capacity to act selflessly for a great cause.